CUSTOMS CLEARANCE OF HUMANITARIAN AID
As one of the largest chain of customs agencies in Poland, we offer assistance in organizing customs formalities for goods under the "HUMANITARIAN ACTION TO UKRAINE". Transport of humanitarian aid products is not exempt from the obligation of customs clearance. The procedures have been simplified, but before crossing the border you need to complete the formalities and prepare the relevant documents.
LIST OF REQUIRED DOCUMENTS FOR CUSTOMS CLEARANCE
INVOICE
containing the exact list of products and information who is the CONSIGNOR and RECEIVER of the goods, the approximate weight and value of the goods and the type of packaging
SPECIFICATION
in the absence of an INVOICE, it is required to prepare a specification, i.e. a list of transported goods (containing data as in the invoice)
AUTHORIZATION
direct and indirect authorization (print available from our sellers)
Where to do customs clearance?
Our customs agencies located on the Polish-Ukrainian border provide services 24 hours a day, 7 days a week.Units inside the country also have the option of declaring "humanitarian aid" goods for customs clearance, thus relieving the customs offices located at the border.
Export customs clearance can be done at customs offices in the following locations:
Gdynia, Suwałki, Białystok, Biała Podlaska, Dorohusk, Hrubieszów, Hrebenne, Korczowa, Medyka, Przemyśl, Chyżne, Cieszyn, Opole, Konin, Żarska Wieś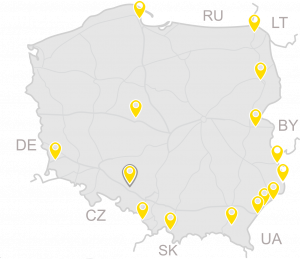 In case of additional questions, our sellers are ready to help.